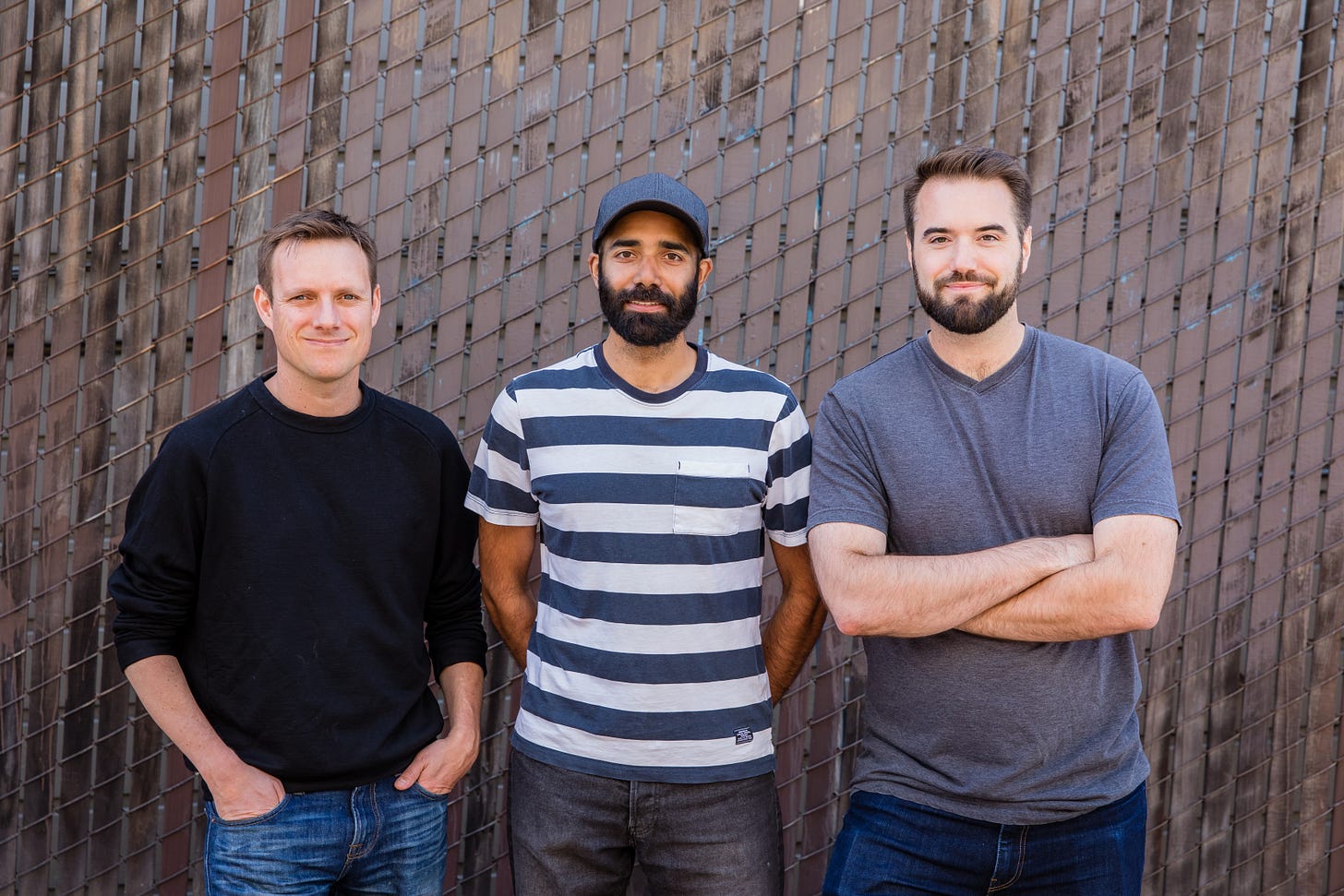 A few years ago, a young star of Silicon Valley bemoaned in an interview that the best minds of his generation were thinking about how to make people click ads. If he had been interviewed today, he might also have said they were focused on how to make people book more rides in private cars, or crash in a stranger's spare bedroom, or swap sleep for streaming video. 
There would be no risk, however, of him suggesting that the best and brightest would be focused on solving problems for writers.
It's kind of obvious that someone like me — a San Francisco-based writer who has worked for tech companies as well as media outlets — might become entangled in an enterprise like Substack. What's less obvious is that people like my co-founders, Chris Best and Jairaj Sethi, would wind up doing this. 
Chris and Jairaj are extremely accomplished developers and engineering minds. They both came out of the University of Waterloo (Canada's MIT) and worked for Kik, once one of Canada's most valuable startups, a messaging app maker with hundreds of millions of users and a billion-dollar valuation (Chris was one of the founders and CTO; Jairaj was the top developer). I'm not going to play into the narrative that people like Chris and Jairaj deserve dominion over the "great minds" appellation – and neither would they – but, to put it lightly, they certainly have career options. They could go to almost any company they choose in Silicon Valley, make hundreds of thousands of dollars a year, and live lives of luxury. Instead, they're risking their time and financial futures by building a startup in a sector that has in recent years been financially toxic. 
This has long been a problem in the news media business. As technology has transformed how we consume and distribute information, there has been an attendant rush of capitalist attention to exploit the emerging opportunities. But in general, the talent has moved away from the places that traditionally support quality writing and toward the machines that spin up billions of dollars from monetizing attention (which is not at all religious about quality). And so, we have ended up with incredible tools like Facebook, Twitter, and Instagram while city newspapers that once held the power to sway millions now struggle to build usable websites. This trend has been true for tech and business talent alike, and even for erstwhile journalistic stars, many of whom trade their poorly-paid callings for the security of jobs at cash-flush tech companies. Even in the few cases where top-tier engineers, product people, and number-crunchers have turned their attention to issues of cultural good, there have been massive whiffs, and worse, because of a failure to understand the minds of the writers they purported to serve. 
I feel so fortunate to work with Chris and Jairaj because they are different to me but, counter to conventional wisdom in the tech world, they are still wholly committed to making the world a better place for writers. While I am passion-led and a little reckless, they are analytical thinkers who are comfortable around numbers (they even seek them out!) and they look for the secret code hidden in the systems that help writers do their best work.  
Working with Chris and Jairaj challenges me in the best possible ways. They make me question my assumptions and frequently wow me. They use parts of the brain I didn't realize exist, bringing new perspectives to publishing and business problems that I wouldn't otherwise have considered. For example, they obsess about details like how to increase the percentage of people who view an article and then decide to sign up to a mailing list, realizing this is an optimization that could one day be worth millions of dollars to writers who use Substack. They map out the minutiae of the process by which a Substack reader becomes a writer who one day decides to activate paid subscriptions and then later encourages more people to follow suit. This stuff probably sounds obvious to anyone who has worked on tech products, but to me, a humble journalist with a dearth of brain folds, it's inspiring. I couldn't bear to do it myself, but they love this carry-on. Or maybe they just think the company's future depends on it. Either way, I'll take it!
Jairaj is driven by data and logic, never taking an assumption for granted (this drives me crazy!), while also not wanting to wait around for directions. If he sees a solution to a problem, he takes the shortest route without waiting for anyone's permission. He's incredibly prolific, accurate, and resourceful. At one point last year, he saved us $5,000 a month by building his own version of a data platform to replace the increasingly expensive Segment (a tool made by a company that has raised $280 million and has hundreds of employees). His preferred device is a 12-inch MacBook, on which he pounds out code in hours-long bursts that sound to the outsider like a clacky piano concerto. He is not a brooker of bullshit, but he is genuinely pleasant, easy to work with, and level-headed. Up until a few months ago, he had built almost every feature in Substack, big and small. Largely because of his competence, we were able to get by as a three-person team until we raised our Series A in July 2019, two years into the company's existence. 
I've been working closely with Chris for so long now that I sometimes risk taking for granted just how utterly impressive he is. I mean, the dude is a great developer and product person (as in, he conceptualizes, designs, and helps to build stellar products), but he's also incredibly smart at business, sales, and even customer support. He reads more than I do, writes really well, and has a sense for a story angle. I am not sure how he became endowed with all these talents, but I assume it has something to do with his dad being a Chaucer teacher. He is also a thoughtful person. He thinks very hard, very carefully, and very clearly about any problem he encounters (unless it's getting through a turnstile in a subway station, in which case he just tries to brute-force it with his paper ticket). He is also an expert disagreer, gently letting you know you're wrong without publicly confirming it. He has saved me from a litany of would-be bad decisions, but he has also entertained, even encouraged, some of my wilder impulses, which has led to some pretty cool things. In a discussion on a plane once, he told me he believed that art ultimately trumps science, which is a pretty big claim for a born-of-technology guy – especially one who reads as much sci-fi as Chris does. 
What's really cool about Chris and Jairaj, though, is not just that they're good to work with, but they're also modest. They could not be further from the chest-beating "tech bro" stereotype of the internet's imagination. This modesty is likely a consequence of their upbringings. Chris is irreversibly Canadian, which means he doesn't assume that his voice is the most important one. And Jairaj was born and raised in Japan, a country not known for bombast. As a result, it feels like we're building a company steeped in humility. We serve writers and readers, not the other way around, and seek to enrich others more than ourselves. While we're following the Silicon Valley startup playbook, we're trying to avoid Silicon Valley excesses. We don't throw lavish parties, we don't have a bar installed in our office, and in fact for the first two years we didn't even have an office. We still don't have swag. To celebrate our Series A, the three of us went on a "retreat" to a clay-pigeon shooting range. I booked us an Airbnb nearby but failed to notice that it had just one bed and a fold-out sofa. Jairaj and I drew the short straws, sharing the sofa. To my immense credit, I have subsequently taken a lot of shit for that exceedingly minor oversight. 
Today, someone on Twitter said something nice about Substack and called me the "CEO." That's happened a few times and I'm not sure why (probably something to do with my good skin), but I feel bad when it does. It's not just because it's inaccurate – Chris is the CEO – but it's because it implies more credit than I deserve for Substack. This company really is a group effort, started by the three of us and now being built by a team of ten. We are all just each other's support players. And what really makes it special is that we hold up a community of millions of writers and readers that give Substack meaning beyond what exists in the company's imagination at any given moment.
In startup lore, there's an abundance of glory stories about the romance of building a company. These myths fuel the irrational activity of startup doingness. But even with the grand tales, I never thought I would end up being a protagonist at a company like Substack. The founder life seemed too much of a grind to me, too much of a head-messer. All I could see from the outside was the prospect of constant stress – a psychological rollercoaster in the best case, a psychological torment in the worst. The overwhelming majority of startups fail! But what I didn't count on was how special it would be to work so closely with good people on difficult but meaningful problems that can touch the lives of millions.
The experience of taking this thing from nothing to something with Chris and Jairaj has produced a feeling that is hard to get anywhere else. I am so incredibly lucky that we get to work together, and that others have chosen to come with us. After all, it's going to take some work to counter the previous generation's obsession with getting people to click on ads.